(1 May 2021)
"Press Review: Mining in the South Pacific"
Vol. 13, No. 2, March - April 2021, 43 pages, available
here
------------------------
Vortragshinweis:
"Bougainville: ein neuer Staat ist geboren. Geschichte, Konflikte, Perspektiven"
.
Jour Fixe des Freundeskreises des Weltkulturen Museums Frankfurt/Main,
link
Auf unbekannte Zeit verschoben!

------------------------
News
Sachbuch & Literaturtipp Mai 2021
Das Luf-Boot vor der Handelsstation von Hernsheim & Co. auf Matupi, 1903.
Foto: Richard Parkinson/Staatliche Museen zu Berlin



Götz Aly: Das Prachtboot. Wie Deutsche die Kunstschätze der Südsee raubten.

link

zum Verlag

SPIEGEL-Online Interview mit Götz Aly:

Kolonialverbrechen in der Südsee

"Die Deutschen zerstörten ein Paradies -

und behaupten bis heute das Gegenteil"

8. Mai 2021,

link

Artikel Süddeutsche Zeitung:

Das unmögliche Exponat.

10. Mai 2021,

link



&



Katharina Döbler: Dein ist das Reich.

Ein ungewöhnlicher Familienroman über ein verschwiegenes Kapitel deutscher Geschichte:
die Beziehung zwischen christlichem Sendungsbewusstsein, Kolonialismus und Rassismus. link

zum Verlag



------------------------
Papua New Guinea´s founding father Sir Michael Somare died
Friday, 26 February 2021
Image: National 2 March 2021,
link
`Papa blo kantri´ Grand Chief Sir Michael Somare in Madang 2012 (photo: Roland Seib)
Obituaries on the death of Sir Michael by Ron May (ANU),
link
and Johnny Blades, RNZ Pacific Journalist,
link
PNG's first prime minister, Michael Somare, and first Governor-General, John Guise,
Independence Day ceremony, 1975 (photo:Denis Williams/PNG Post Courier)


------------------------

PNG: Government accepts new gold and copper mine


Illustration: National 28 Feb. 2021,
link
------------------------

Bougainville president meets rebel king in reconciliation

RNZ 26 Jan. 2021,
link
------------------------
Since 13 November 2020:
Power struggle for the post of prime minister in Papua New Guinea
16 December 2020: A sigh of relief, full story RNZ 17 Dec. 2020,
link
Photo: National 17 Dec. 2020,
link
Image: PNG National 11 Dec. 2020,
link
------------------------
(17. Nov. 2020) Website der AG Tiefseebergbau ist online:
www.stoptiefseebergbau.de
------------------------
(2 Nov. 2020) Neues Positionspapier des AK Rohstoffe:
Krisenverschärfendes Handeln stoppen - Rohstoffwende umsetzen
,
link
------------------------

Walking into Nogoli, PNG Highlands
© James McIlraith/University of Otago


New Report from ACT NOW!,
Jubilee Australia and the Oakland Institute:
Calls for a Dramatic Change from Extraction
to Inclusion for Real Development in
Papua New Guinea,

Oct. 2020,

link



------------------------
Ishmael Toroama declared president-elect of Bougainville, PNG
RNZ 23 Sept. 2020,
link
------------------------
(1 Sept 2020) new report: Intern. Cyber Policy Centre & Australian Strategic
Policy Institute:
The Chinese Communist Party´s coercive diplomacy
,
link
------------------------
(17 August 2020)
East Sepik people have rejected the Frieda River
copper/gold
project
according to Governor Allan Bird;
link
------------------------
(6 August 2020)
The Oxygen Project - STOP DEEP SEABED MINING!
Legendary eco-activists Jane Fonda and Sylvia Earle, along with Phillipe Cousteau,
Julien Lennon, and other conservationists star in this emotional video asking us
to help stop a destructive new industry: Deep Seabed Mining;
link
------------------------
(25 July 2020) Article by Franco Zocca from 2012 about Belden Namah,
currently Papua New Guinea´s opposition leader in the national parliament:
Life excursus of Mr Belden Namah,
here
------------------------
(25 June 2020) New paper: Pacific Network on Globalization & Ozeanien-Dialog
Rough Seas: Looming Dangers of the Blue Economy
,
link
------------------------
New photo gallery New Zealand
available
here
------------------------
New Report Highlights Deep Sea Nodule Mining
Danger to Pacific Ocean and Island Nations
Deep Sea Mining Campaign, 20 May 2020,
link
Image: WILLYAM
------------------------
Inside Indonesia's Secret War for West Papua
Just north of Australia a secret war is being fought. West Papuan independence
fighters and Indonesian security forces are involved in a protracted and bloody
battle over the issue of Papuan independence. ABC Foreign Correspondent
12 May 2020; link; Background:
The battle for West Papuan independence has intensified; Post-Courier
link
------------------------
Arbeitskreis Rohstoffe:
12 Argumente für eine Rohstoffwende
, 5. Mai 2020,
link
------------------------
"Save the Sepik"
`Project Sepik´ calls for PNG Government to halt Frieda mining project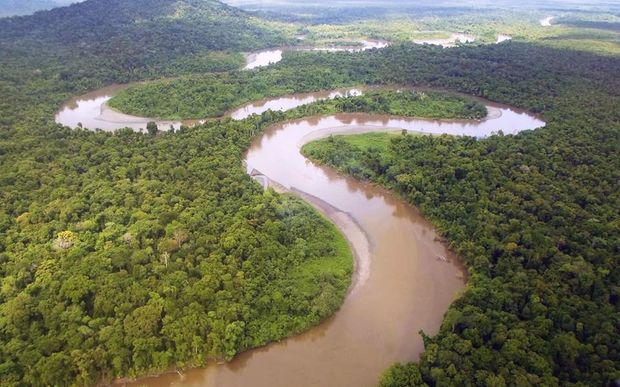 Frieda River heading north to join the Sepik River. Photo: Facebook - Sepik Capital, PNG -
Wewak Urban Local Level Government; RNZ 9 April 2020
link
------------------------




Literaturtipp:

"Die zornige Stimme der
Internierten in Australien" (SZ)

"Woher komme ich? Aus dem Land der
Flüsse, dem Land der Wasserfälle, dem
Land der

uralten Gesänge, dem Land der Berge. (...) Aus einem kleinen Dorf inmitten eines Kastanienwalds."

(291)

Original title: "No Friend but the Mountains.

Writing from Manus Prison". Sydney 2018

zum Hintergrund:

link

Rezension von Jan Bielicki,

Süddeutsche Zeitung vom 3. Feb. 2019,

link

see also J.M. Coetzee, New York

Review of Books 26 Sept. 2019,

link



------------------------
Death toll from Papua 2019 protest month put at 59
, RNZ 6 March 2020,
link
Protest march in Jayapura, West Papua against racism towards Papuans in Indonesia 19 Aug 2019
photo: RNZ 6 March 2020
------------------------
19 Feb 2020 new report by the London Mining Network:
Cut and run: How Britain´s top mining companies have
wrecked ecosystems without being held to account
,
link
Neue Studie der Stiftung Wissenschaft und Politik zur
Strategischen Rivalität zwischen USA und China
, Feb. 2020,
link
Documentary:
Malaysian Logging Colonialism in Papua New Guinea
UK based Sarawak Report by journalist Clare Rewcastle-Brown, 7 Jan 2020,
link
------------------------
Interview mit der Deutschen Welle:
Chinas "Umarmung" der Pazifikinseln beunruhigt Westen
Pekings verstärktes Engagement in der Südsee ist bislang nur wirtschaftlich.
Aber militärisch-strategische Absichten werden vermutet, Sicherheitspolitiker
in der Nachbarschaft sind alarmiert. Sogar Berlin hat reagiert.
2. Dezember 2019,
link
------------------------
Bougainville referendum report gives historical perspective
Radio New Zealand/RNZ 12 June 2020,
link
Final Bougainville referendum report presented to PNG
RNZ 5 June 2020,
link
In photos: Bougainville chooses independence, as Papua New Guinea makes pitch.
RNZ 20 December 2019,
link
The Bougainville Referendum Commission (BRC) returned the referendum writ
with the results to the Governor General at Government House in Port Moresby
RNZ 13 Dec 2019, Photo: Facebook/BRC
Bougainville voted yes to becoming the world´s newest nation. Now begins the gold rush. ABC-PNG correspondent Natalie Whiting on 13 December 2019,
link
11 December 2019: Bougainville - A new sovereign state is born
Bougainville flag flies high in Panguna Photo: RNZ Pacific 21 Nov 2019 Johnny Blades
A 97.7 percent majority has voted for independence in Bougainville´s historic
referendum. Over 85 percent of those enrolled having voted. Consultations with
the Papua New Guinea government will follow. The chairperson of the Bougainville
Referendum Commission, former Irish prime minister Bertie Ahern, paid tribute to
the people for their enthusiastic and peaceful participation. The leader of the
Australian Observation Mission, Foreign Affairs Minister Marise Payne, said,
the referendum process was "free, fair and credible".
link
People of Bougainville celebrating the outcome of the referendum in Buka on Wednesday,
Photo: The New York Times 11 Dec 2019, Courtesy of Serahphina Aupong/UN in PNG via AP
Bougainville people take their flag with them to vote for the referendum.
Photo: RNZ 7 Dec 2019, Johnny Blades
Photo essay: Bougainville´s historic independence referendum
,
RNZ 6 Dec 2019
link
Bougainville referendum inspires hope
, RNZ 28 Nov 2019
link
23 Nov - 7 Dec 2019 Polling period for the referendum on

Bougainville´s independence from Papua New Guinea
PNG leaders caution ahead of Bougainville vote, RNZ 22 Nov 2019,
link
Bougainvilleans check the voter roll ahead of their region´s independence referendum;
Photo: RNZ 7 Nov 2019, Bougainville Referendum Commission
"Whatever we think about whether independence for Bougainville is a good or bad
thing, the more important principle is that we work to honour UN-ratified peace agreements. If our region fails to do that, if the UN Security Council fails to, we
will find it more difficult to reach peace agreements to end future wars."

John Braithwaite and Miranda Forsyth, 28 Sept 2017,
Blog
------------------------
Chinese-owned Ramu Nickel mine in PNG shut down after toxic slurry spill
Photo: RNZ 24 Oct. 2019 Facebook Elisha Wesley Mizeu; See ABC report 25 Oct 2019
link
------------------------
Akilisi Pohiva´s son wins by-election
, RNZ 28 Nov 2019
link
Pacific leaders pay tribute to Akilisi Pohiva
,
link
12 Sept 2019, Akilisi Pohiva, the leading figure of Tonga´s pro-democracy
movement and twofold prime minister died today at the age of 78;
RNZ
link
photo: RNZ / Jamie Tahana
------------------------
Das moderne Weltsystem - Zum Tode von Immanuel Wallerstein
.
Ein Nachruf. SZ vom 3. Sept. 2019,
link
------------------------
PNG´s Resource Curse: Double or Nothing Revisited
Paul Flanagan, PNG Economics, 12 June 2019,
link
------------------------
Demolition of historical courthouse in Samoa begins
Link: RNZ 19 May 2020

Photo:

nzhistory.govt.nz
117 year-old German colonial courthouse in Apia will be pulled down, Samoan PM
Photo: Roland Seib, 2011; RNZ report 8 June 2019
link
------------------------
New Papua New Guinea prime minister calls for unity
James Marape, left, being sworn in as prime minister of PNG by the
governor general Sir Robert Dadae, 30 May 2019. Photo:
PNG prime minister´s office media;
link
RNZ report
Marape promises to rebuild country in first address to PNG,
link
RNZ 6 June 2019
------------------------
Chinese President Xi Jinping and officials meet with Papua New Guinea´s Prime Minister
Peter O´Neill and ministerial colleagues at the 2nd global Belt & Road Forum in Beijing,
25 April 2019; Photo: Xinhua/Yan Yan
------------------------